1.9.2019
In August my oldest turned 13, and wow. I cannot accurately describe a 13 year old boy except, WOW. I hesitated for so long to write this because I'm aware some day he will stumble on this blog and read all about himself, his mom, and his family, but I have to document 13 at some point.
I am technically an only child. Adding to that, I'm a female who never spent overtly large amounts of time with 13 year old boys, (my best friend Jeremy was around a lot, but I missed a lot of the tantrum melt down stuff that must have happened at home), and I'm lost with boys.
It felt as if the day he turned 13 a switch flipped, and overnight he became an entirely different person. My son is no 5' 8", he has a size 10 foot, and a size 20 attitude. His mood is insane. It goes from happy hugs, to angry door slamming, to frustration, sadness, happy, and mad all in the span of four minutes. His brain is changing and his sense of self preservation isn't growing at the same rate as his urge to be defiant. I believe girls learn faster when to stop and save themselves. My son, no way. Even with clear, loud warnings that he's approaching danger territory he will dive head first violently into what can only end in trouble. If A+B+C = Being grounded, and he gets though A, is part of the way through B with several warnings, I promise you he will still purposefully dance across C just because he can. Then when the inevitable grounding happens he will be angry and indignant, as if it's my fault he intentionally broke the rules and had to suffer the consequences. I tell him all the time, "boy, if it was me I would stop now." He doesn't though, he pushes just a little bit more, which never fails to amaze me.
Add into the mix that we are dealing with what I believe is a strong case of ADHD (he's going through testing) and the result is pure chaos. I'm ADHD and all of the things that make me impossible to live with, are occurring in him, when the two of us get into a disagreement it's a level past chaos, because neither of us know what to do. We both want the last word, we both misinterpret we both get so angry so fast because we have so many feelings, and it results in an argument that accomplishes nothing. It's like asking one blind person to help another. I can't even help myself yet kiddo, how am I supposed to help you not become me? It's a shit show to the max.
I probably need a whole separate post dedicated to the females of his generation, because they are a sad sorry specimen and I feel sorry for my son having to grow up in this social media age where girls send mixed signals, screen shots, and lies. Growing up at my age I was forced to talk on the phone to boys and friends. Forced to hear their voice, their linguistics. We undertsood tone and connotation. Kids now are misinterpreting text messages left and right, then getting face to face and not knowing how to talk to each other, and it's sad to witness.
Thirteen year old boys are learning how to hide things. They are learning to twist the truth. They are learning to be literal. If there is cheese on the counter, the tortillas are open, and the sour cream is out, and you ask "who ate a quesadilla and left this mess?" They have figured out they can say "not me," because they shaped their quesadilla like a burrito, and you didn't ask about a burrito, only a quesadilla, so technically they aren't lying. If you ask them to shake the crumbs off their place mat, they will dump their placemat straight onto the floor. When you ask in horror why they would do that, rather than shake it over the trash like they have EVERY OTHER NIGHT FOR 12 YEARS, they will reply, "you only said shake it off, not where, so I did nothing wrong, you need to give better directions." Somehow you will be left scratching your head wondering when you became the wrong one, and they became the right one, even though, you are pretty sure you're still supposed to be right.
I've spent the last month in a constant state of confusion. I know this is a phase, and soon his brain and logic will catch up with each other and level out. The only problem is, that will happen right around the time his little brother turns thirteen.
---
12.17.2018
I wanted to do a post of my favorite little items that I carry around, in case you are in need of stocking stuffers for your friends and family.
I picked up this adorable microfiber eyeglass cleaner in a little bookshop at the San Francisco Ferry Building. It made me smile, and it still does a year later. They don't currently sell that color, but if you click this link you will see the new color they do sell, that is BLOWING MY MIND!
Next up are these Love Bags "Stash It" bags. I love love love these bags. Aside from how cute they are, they fold up super small and fit right in my purse. However what pushed these into SUPER LOVE, is the drop length of the handle. If I'm at the farmers market, or just shopping around the mall acquiring a lot of items, I love that I can switch this bag to a cross body style so it doesn't tug on my shoulder. You can see here the various ways it fits.
This cell phone case. Let me tell you a story about this. About five years ago I was at the post office paying for my stuff. For some reason I glanced over at the exact moment the lady next to me slid open her phone and pulled out her debit card. I loudly shouted, "WHAT IS THAT??" She excitedly told me the brand name, and where to find it. I bought it off Amazon before ever leaving the parking lot, and I've since had three of them (I get a new one with each phone). I realize a lot of companies make phone case wallet type things that flip open, but that wasn't what I wanted. I didn't want to have to open a wallet thing each time I wanted a photo, and I didn't want an open wallet in my selfies. The reason I really love this, is when I go running, I can take just my phone and always have my ID and debit card. That means if I ever run too far and need help, food, snacks, etc, I always have my debit card handy. If your wondering, who runs too far and needs a snack, it's me. Once I left for a run, got mid way up Mt. Rose highway when the worst cramp ever hit. I ran to a gas station thinking I could Apple Pay a Gatoraid or something, but they didn't use Apple Pay. I knew I needed a sodium replacement ASAP but I had no funds. The store didn't have any individual salt & peppers, so I couldn't just add salt to my water. I was about four seconds from downing a packet of mustard, when the gas station attendant felt bad for me, and gave me a cup of Poweraid from the soda dispenser. I felt relief almost instantly and went on to run 7 more miles. After that I never went on a run without my debit card. Apple Pay has helped a ton with that too, but this phone case makes life so easy. I can leave the house with just my keys and phone. If I go to a concert, my ID, debit card, and phone are all in one spot. I don't need a small handbag, and it's very slim in my pocket.
I'm obsessed with this chapstick. I have to order it online, but I'm not allergic to it, it tastes good, and the ingredients aren't toxic. Something I have always traveled with, that they no longer make, is this little box of mini nail files. However I found something similar by Sally Hansen sold on Amazon. I know, it's a weird item, but I can't tell you how many times I've broken a nail traveling, and then proceeded to snag it on my shirt all day long driving me slowly insane. Having a tiny file ready to go is amazing.
I always always have tweezers with me, and these are my favorite by far. I don't actually know what to do with my eyebrows. I had them waxed about 4 years ago, and try to maintain that, but I'm not great at it. HOWEVER, my son has managed to fall into a cactus, and kick a cactus before, and I sure was glad I had tweezers ready. To be honest I also have a set of these in my car. In total I have one in my purse, my office, my car, and my bathroom at home. Besides cacti, I've had several run-ins with splinters too.
I got this little razor on Amazon years ago, and it has been great. It fits in my purse, but I also have one in my gym bag and office. Why do I have several little razors? Nothing drives me crazier in summer, than getting to work and realizing I missed a huge spot while shaving. Inevitably I spend the rest of the day staring angrily at the spot, while simultaneously rubbing it to see if it's still there. Now, I have this tiny razor in my desk, I grab it, make a quick swipe, rinse and I'm done.
Along with that I have this tiny deodorant ball in my purse. I work at a gym, and I work out a lot. I never know when I'll need to freshen up. This little ball has made it so easy to always have deodorant on hand without carrying a big stick around. I think they are cheaper in the store than on Amazon though.
I keep this ear warmer with matching gloves in my bag. (Actually the ear warmer is in my bag, but the gloves are always inside my coat). It's pricey, but I love it, and a lot of young girls would too.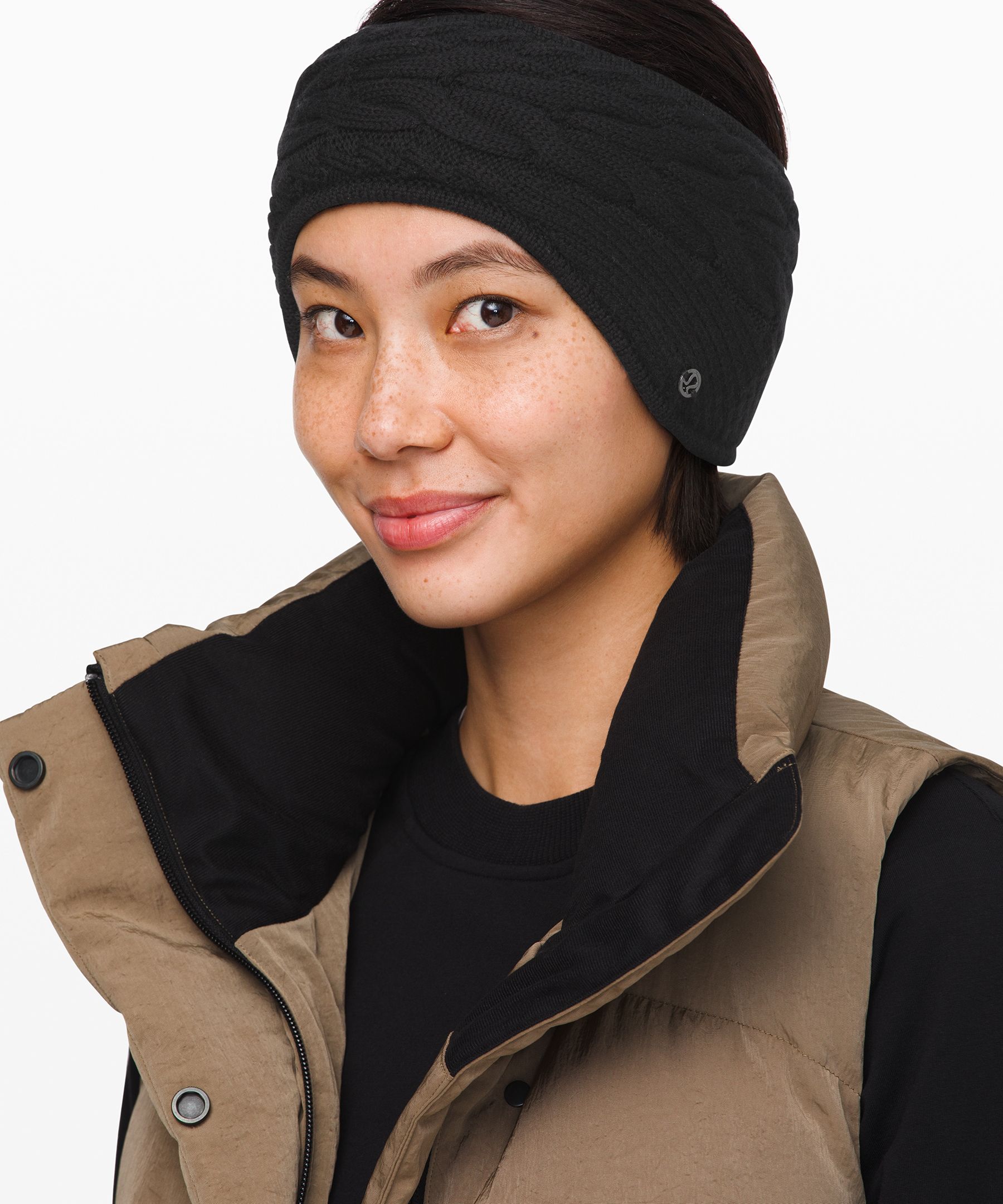 While we are going down the Lulu rabbit hole, let me show you the other thing I have that I LOVE.
I have this vest. It seems like a normal vest, except it packs down into a tiny bag and fits in my purse, carry on, or center console. This vest is crazy soft, super warm, and fits perfect.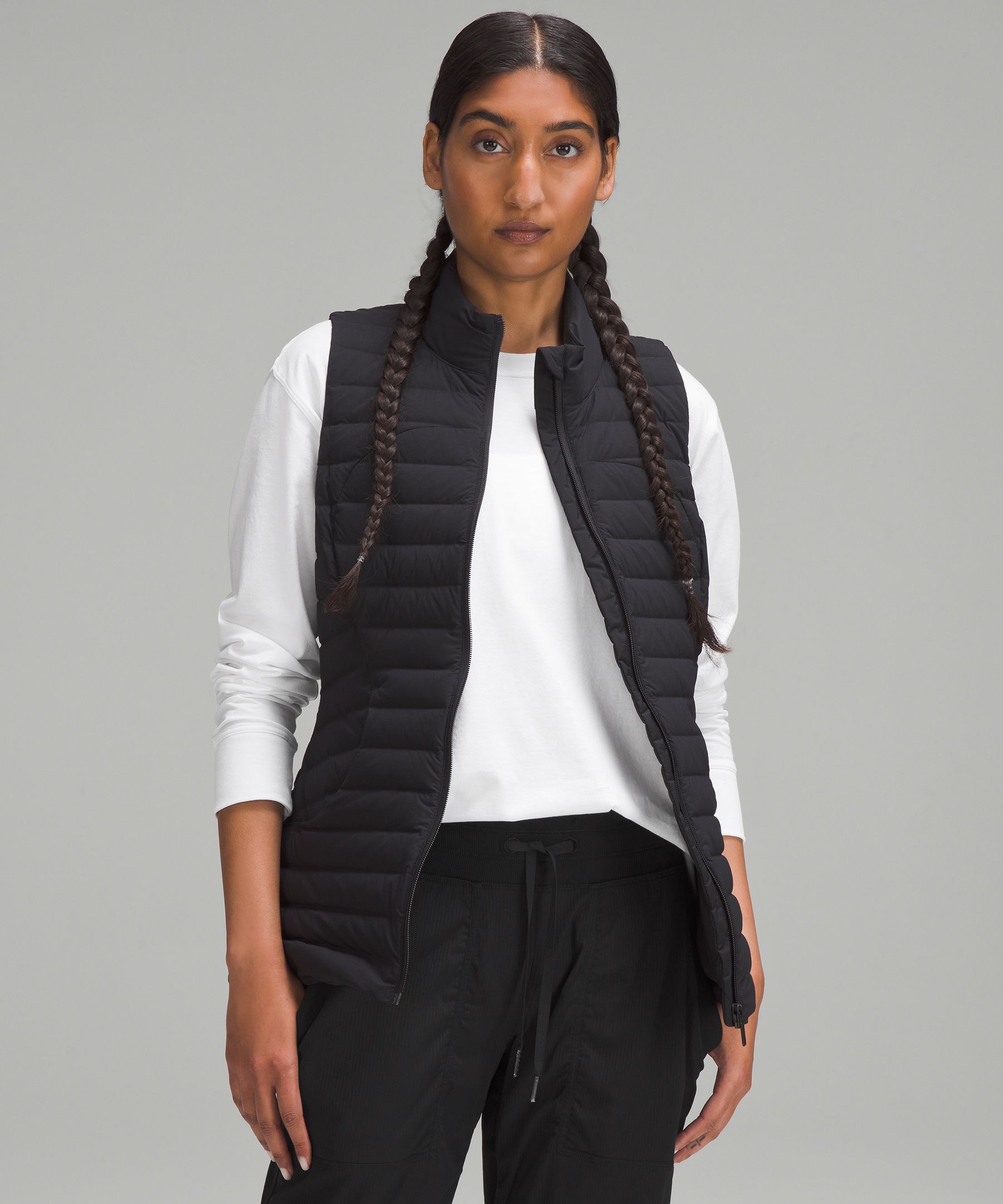 That's all that comes to mind for now. These are a few of the little things that make me happy daily.
---
12.10.2018
I had an interesting experience recently. As you all know here, because I'm a broken record, I suffer from seasonal depression. For some annoying reason from about October - March I do my damndest to totally dismantle my whole life. I cannot explain this, but I'm fucking exceptional at it. The people who are constant in my life know this about me. Most of them disregard anything that comes out of my mouth during this time. Those are good friends, the ones that let me have my little fit, and then ask me if I'm done, and can we get donuts now.
However, once in a while it gets too heavy in my head and I fade to black. I am very good about reaching out. Well, I either turbo fuck up my life, or reach out. Anyway last month I went black, and I mixed it up by going mild dismantle, but also reaching out. This is what shocked me. I reached out to two people and both of them were "too busy." Then they thought, "you're only saying this because we had a fight the other day." Finally they thought, "well we aren't fighting now so you must be fine."
I have to say I'm fucking flabbergasted. I've never, ever, ever, used the shit in my head to get out of a sticky situation. I've had it done to me several times and I hate it. I hate it because no matter what I will always follow up on it, get down into it with you, and wade through all the shit to save you, until I realize it was all just a joke for you. Because I've had that done to me so many times, I NEVER DO THAT. I don't let a lot of people in my life, and I don't open up much, which is what made it all so surprising when I finally opened up, asked for help, and was so fully shut down.
I keep a list in my head, of people I will never ever trust ever again, and boy are these two jack asses so high up on the list right now. Moments like that are why people don't reach out for help. Because their peers are so self absorbed they can't take 25 seconds to stop and look at the bigger picture. At the end of the day, the entire situation, the hours of talk, everything was still about them, and I walked away from it all laughing at how naive they are.
I'm a giver. I will give to you, until I'm empty and barely surviving, and then give to you some more, if it is going to help you. That makes it so hard for me to understand takers. I find takers often. It's like I'm drawn to them. People who want to suck the empathy out of you. Drain you of your joy and love, and leave you broken, and wondering why you didn't see sooner that they are damaged souls who drag others down for fun. I will always accept them too, because I never want to wonder "what if," but I gotta tell you it's wearing thin being a giver, who can never find a giver in return.
If you need help, reach out to me, or someone you know and trust. In the event you reach out to a fucktard who can't see beyond themselves, please, for fuck sake reach out one more time. Because I promise the whole world isn't that way, there is good out there, you maybe just have to look harder, and then make your own list.
---
9.20.2018
Yesterday, when I got home from my first job around 5:42am the house was dark. This isn't normal. Brandons alarm goes off at 5:20am, and he's supposed to be downstairs starting to help unload the dishwasher and working on his breakfast. I walked in to nothing. Darkness, quietness, the whole house was still. I didn't like it. I trudged upstairs to open his door, but it was locked. I cannot, for any reason explain the terror I felt in that moment. In 13 years Brandon has never locked his door. We don't lock doors in our house. If his door is closed, I'll always knock before coming in (unless he's asleep and I'm coming in to wake him). I said his name and he didn't reply. My whole heart sunk and I slammed on the door shouting BRANDON. Nothing. I wanted to vomit, and I pounded on the door louder, shaking the handle and screaming his name. Finally he stirred, and I think was more shocked and afraid by the pounding on his door than anything. It took him a minute to fully wake up and open the door, when he did, one of his pillows was in front of the door, and I was rapidly, mentally going down hill fast. I was so angry (not at him) and scared, and confused that I just rushed in to see his face. I know, in that moment he thought I was absofuckinglutly crazy. He is not wrong.
What I couldn't figure out the rest of the day was, what was I most upset about. Am I the most upset that it's so common for teens to commit suicide now that I seriously had to worry about my fucking 13 year old harming himself? That makes me angry. It makes me angry knowing that our youth can get in bed, in an amazing mood, ready for dream land, and then possibly receive a text, or see some stupid online challenge, that in an instant can make them want to take their life. When I was growing up, we didn't have the cyber bullying. If someone wanted to call me and talk shit, they had to call my phone. I might have had a teen line, but you bet your ass my mom heard the phone ring, and would come in to see just what the hell was going on. Now, now there are silent texts parents can't hear, or silent videos challenging kids to do some stupid dumb bullshit challenge that ends up with a dead kid. I'm angry about this.
However, I think I'm almost more angry that I assume behind every goddamn locked door I'm going to find a dead body. Let me be clear, I did not find my dads body, but someone did. I've lived that morning in my head a million times. All the locked doors, the cops having to break into his bedroom window to find him dead. I hate it. But in 2016, I had to find a dead body, and it never goes away. I knew, I KNEW before going in. You know, some times people go missing, but you know they are okay. This person had done that several times. It was normal. He would disappear for a bit, clear his head, drive us all insane, and then show up and repent. This time though, in my soul I knew what I would find. The person at his apartment wouldn't do a well check for me. They said they had found too many bodies. The police wouldn't help, he hadn't been gone long, and we didn't usually like to involve cops with him. So I went. The apartment lady and her maintenance guy unlocked the door for me, and I had to go in alone. The first thing I saw was a towel rolled up below his door. I KNEW. This, I think is why I totally fell apart when Brandons pillow was in front of his door (this is normal he lays on the ground playing with the cat before bed and never remembers to put all of his pillows back). After that I had to move into the house and knock on his door. I called out his name several times, but I knew he wouldn't answer. Then I opened the door, and there he was. At first glance he just looked like he was asleep. I knew though he wasn't. I went in closer, saw his blue lips saw the death, and called his name again.
Something weird you should know about me, is in situations like this I have an inhuman ability to shut down and just do what needs to be done. When my grandpa went into the hospital years ago and was dying, I was able to go there, and not cry (for a few days), and just get the facts, and do what needed to be done. When my dad, or someone goes to the hospital I can walk in totally level headed, talk to the doctor, and proceed as if someone is having an ingrown toenail cut. I don't panic, until I need to. Even then it still takes me a few days. The one and only exception to this is the time they told me my grandma died. I full blown lost my shit immediately In a way I'm not sure I have ever done before, or since.
Back to the story. Here I am calmly dialing 911, talking to the dispatch. Telling them NO I won't perform CPR because he's very very dead. They ask me to get closer to the body, and I do, an image I'll never forget, they have me call his name so they can hear. He's still dead. They ask me again to touch him. NO. I won't. They don't tell me to be calm, because I am so very calm already. I finally hear sirens, and dispatch tells me they will let me go because help has arrived. Another thing I will never forget is the paramedic walking into the room, looking at him, smiling, and walking out saying "yup he's dead." That felt, insensitive. After that I filled out some paper work. An officer showed up. I was very calm with him. We discussed everything, I made the calls I needed without crying, or showing any emotion at all. I stayed there until the very last second when they wheeled his body out. When they moved him and the final smell came out, I will never forget that, for my whole life, that smell sometimes burns my nostrils. My dad and I locked up and left. I drove to the gym, I worked out, I picked my son up from school.
It took me close to 5 weeks to cry. When I picked up the death certificate I didn't cry. When I closed his accounts I didn't cry. When I planned food for the funeral I didn't cry. When the tox report came back, and the medical examiners office called me personally to confirm the cause of death as suicide, I was driving on the freeway, passing Moana Lane. Right then and there I cried. Whole body sobs, shaking so violently I couldn't drive straight, I pulled off on Plumb Lane, and sat there on the side of the road sobbing. I cried for about ten minutes straight, pulled myself together, pulled back onto the road and finished my errand.
I haven't talked a lot about that because that story isn't mine. My dad's story, that's mine to tell, that is my father and I can talk about it. The other story, it's not mine to tell. I was there, the person was my family, but it's not my choice to publicly discuss how he died, so I don't. Maybe I need to though, to get it out a little bit.
So, I think, perhaps that day is the reason I fully lost the ability to think when I found my sons door locked. Because I know what lies behind closed doors. I did tell my husband that I panicked. I told him the truth, I lost my total shit and kind of flipped out. He later told Brandon nicely to not lock his door anymore. We don't have to tell him why though. Brandon is the kind of kid who senses, when I tell him certain things, there is a reason and he should listen. He's always known about my fear of hugs. For years we didn't talk about why. I just told him I didn't like surprise hugs. He sensed there was a deeper reason, and still to this day (he knows all the reasons why now) he will slowly approach me for a hug, he always makes a joke about how small I am, to make me laugh during the hug, and he never makes the hug a trapped feeling. One time he wanted to see if he could lift me up off the ground. He asked, he gave me a moment to process, he explained each step he was taking, and then he successfully picked me up off the ground and was so proud of himself for how tall he is now. So, he has no idea why I'm afraid of locked doors, but he knows, I was upset that morning (not mad upset, scared upset), and he will probably never lock his door again until he moves out.
I'm angry for both of these reasons, and in that moment, the two reasons combined and my whole body felt like it was breaking down. I can understand losing a grand parent when they are old. I can understand that some people die. Losing my son, to suicide though, would be the end of me. When my hand turned that knob and it wouldn't open, the world went black.
---
9.5.2018
My oldest turned 13 recently. There have been clues leading up to this, clues that a teenager was about to arrive. He's been taller than me for a while, but he recently sprouted up even more. His foot is the size of his dads. His voice is suddenly deepening, which is so weird, I miss his baby voice. His attitude has been 13 for at least 3 years now. He wears one ear bud on the bus now, reminiscent of my 13-year-old self with a disc man in my pocket (actually it might have still been tapes then). This weekend though, things changed. He was upstairs playing with the kitten, lying on the ground. He reached up over his head to grab the cat, and he had...he had armpit hair. I cannot explain why this bothered me so much, but it did. It's as if it flipped a little hair covered switch, and suddenly my little boy is a grown man. I realize boys have armpit hair, I guess I always assumed that came closer to high school. Which, I guess that means I have to admit he's only a year away from high school. I think that means I'm about a year away from the dreaded mustache, and you guys, I don't think I'll be able to handle the teenaged, patchy, half mustache. However. My cousin is spending her time shopping for prom dresses, which I've decided is eleven billion times worse. Because when she gets to the dance it will be full of hot high school boys, which makes her situation suckier than mine. So that gives me some relief.
---
Earlier Posts →